Study in Korea Experience
Publication date: 08.10.2017
"Do not follow where the path may lead. Go instead where there is no path and leave a trail." ― Ralph Waldo Emerson
To put things laconically, several students have dream to study abroad…. Right?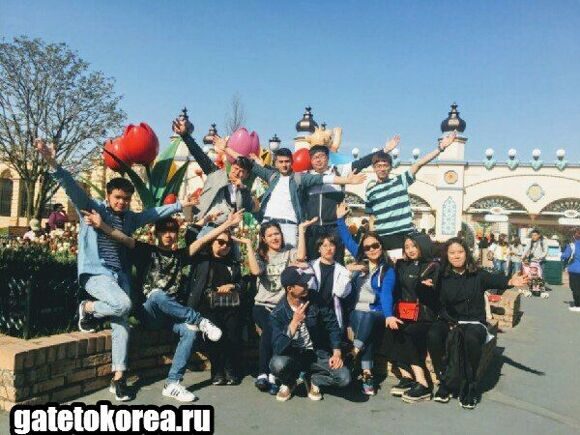 Students start dreaming to study abroad since their college life. There may be numerous reason behind their dream like some have vision to get their degrees from top-ranking university, some are motivated which lead them to study abroad while there are others who believe on exploring different countries for different experiences.
It is really captivating for a student to study in new land, new nation whose culture and language is entirely different, but simultaneously it is a big challenge for them too. But most of the students accept this challenge because of the vision and passion they have toaccomplish their goals. This article aims to addressing the study abroadexperience and impression of a student.
Since my childhood, I always have inspiration to do things differently and to accept new challenges. After completion of my bachelor studies, I have an inspiration to be a good researcher and this inspiration prompt me to pursue my further career abroad. For this purpose, I start searching different countries where I can continue my studies and be a good researcher. Finally, I select Korea because of their various sort of funding to students and researchers. Although, it was a big challenge for me to go to the country where language is entirely different from my native language but to accomplish one's goal it doesn't matter what challenges one will encounter, one just starts journey without bearing anything in mind. As I mentioned that it was my passion to be a good researcher,I accept this challenge and start my journey to Korea from Pakistan in order to accomplish my goal.
I came to Korea back in March 2017. Before coming to Korea, I always use to think that English is an international language but after coming here I realized that very few people can talk and understand English. So, soon after reaching Korea my opinion regarding English as an international language changed because I found out that there are a lot of countries in the world who don't speak and even don't understand English. Anyways, finally I joined the university and start taking my classes in Korea. In Korea, almost every course is offered in their native language which creates a little difficulty for foreign students to understand. However, there are some teachers who teaches in both languages i.e. English and Korean, which helps foreigners in knowledge acquisition regarding the subject.
After completion of first semester of my studies in Korea, I compare the procedure of education here from my home country and found out that it is entirely different in both countries. In my home country, a semester consists of five months which starts from January or August and ends in May or December respectively while in Korea semester lasts for only four months i.e. starts from March or September and ends in June or December respectively.Initially, itleaves an impressionto me that it is very short time for a student to learn and master any skill. But soon after completion of my first semester I figure out that in Korea, for master course, focus is primarily on research side and students are engaged in many research activities while their student life which helps them to learn and gain practical knowledge regarding their major of studies. In contrast to that, in my home country, at graduate or Masters level, focus is mainly on theoretical side. Moreover, students in Pakistan learn by their own effortswhich help them in brainstorming while in Korea mostly students are technology dependent which help them to do things quickly and efficiently. In short, both countries' procedure of education has different benefits from different perspective.
During start of my career in Korea, every day was a new adventure that was completely different from my life at hometown.I found many difficultieslike language barrier and different way of teaching from my home town but with the passage of time I enjoyed learning in Korea through their way of teaching.
Apart from my studies, I am adoredbycountry's rules and regulations and the law & order situation. Also, by the attractive Korean culture and welcoming nature ofKorean people. One thing that really appeal me is that, people in Korea are abiding by rules and regulations and they are very honest to others and their country.
After coming to Korea, my personality groomed in many aspectsbecause I learnt and adopt many good things from this culture and country. While living alone distant from my home country,I gain self-confidence, I become responsible and mastered how to confront the difficult situation.
To sum up, study abroad in a country that is completely different from your hometown and from any culture you have experienced before is really a valuable experience. Studying abroad gave me a new outlook and perception on life and other cultures around me. It helps in my personality structure through different perspectives. I hope everyone gets the opportunity to experience a unique education abroad experience, too.
written by Sobia Naz